Regular price
Sale price
£1.50 GBP
Unit price
per
Sale
Sold out
Our walnuts pieces have a deliciously rich taste, are moist yet crunchy with an excellent nutritional profile.
Walnuts are a tree nut and are a rich source of monounsaturated fats and an excellent source of omega-3 fatty acids in the form of alpha-linolenic acid (ALA). Unlike many walnuts, our walnuts come with the skin on as the skin has been found to contain 90% of the phenols including key phenolic acids, tannins, and falvonoids.
As well as being rich in antioxidants, walnuts are also a good source of manganese, copper, molybdenum and the B vitamin biotin. Many other minerals are provided by walnuts in valuable amounts. These minerals include calcium, chromium, iron, magnesium, phosphorus, potassium, selenium, vanadium and zinc. Vitamin B6, while not especially concentrated in walnuts, may be more bioavailable in this food. In terms of phytonutrients, walnuts contain antioxidant and anti-inflammatory compounds, including more than a dozen phenolic acids, numerous tannins (especially ellagitannins, including tellimagrandins), and a wide variety of flavonoids. The form of vitamin E found in walnuts is somewhat unusual, and particularly beneficial. Instead of having most of its vitamin E present in the alpha-tocopherol form, walnuts provide an unusually high level of vitamin E in the form of gamma-tocopherol.
Suggested use:
Like most nuts, walnuts can be easily added to your diet. Add them to your favourite salad or yoghurt. Make your own granola or porridge topping with our goji berries and chia. Mix with our other nuts, dried fruits and seeds in homemade snack mixes. Alternatively just open the bag and snack!
Ingredients:
100% Walnuts
Contains nuts. May contain traces of milk, peanuts and soya
Typical values per 100g:
Energy 2843kJ/679kcal
Fat(g) 65.2 of which saturates(g) 6.1, Carbohydrate(g) 7.0 of which sugars(g) 2.6,  Fibre(g) 6.7, Protein(g) 15.2, Salt(g) 0.01
Currently Collection Only
Share
View full details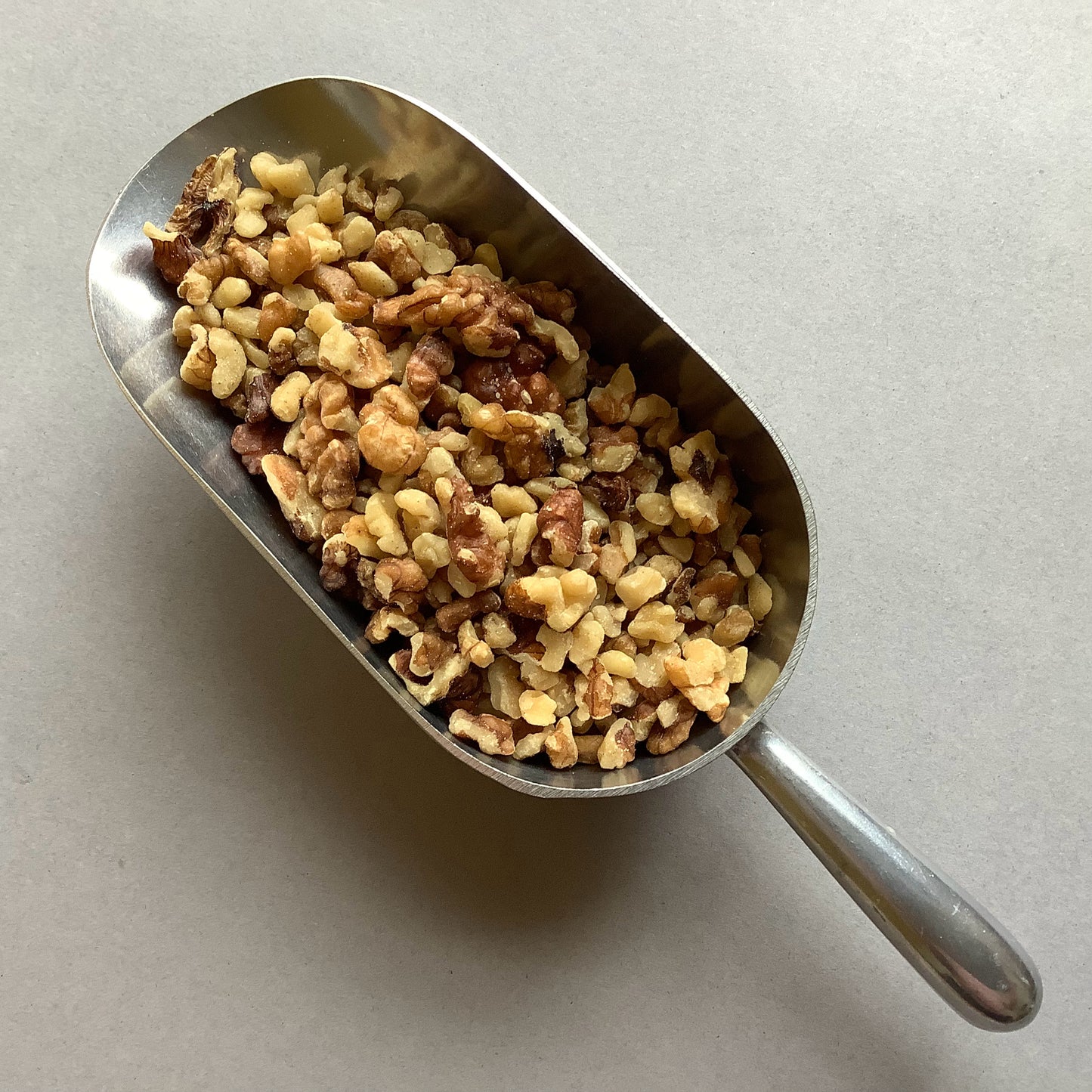 Click & Collect

We are open from 9:00-17:00 Tuesday - Saturday. You can order through here or simply drop off your containers and a list in the morning and we will have them completed for the evening.

Packing

If you are ordering bulk prodcuts make sure to order enough jars or compostable packaging to hold everything.